Content Audit, Site-map and Navigation Structure
This week we had to audit the content for our websites, create a site-map and decide upon a navigation structure. Whilst my homework will be quite short, you can find supporting documentation in my Creative Experimentation.
Content Audit
Home » Welcome Page for visitors
About » Information about me/Social Media Links

CV » Web Based/Downloadable CV containing basic information

Portfolio » Best pieces of work from Foundation Degree, Degree and Freelancing
Blog » All Posts

Design Blog » Contains posts only regarding Design
Playground Blog » Contains posts only regarding me experimenting. Not to be mistaken with work from my IMD course.

Gallery » All Gallery Pieces

Panoramic Gallery » Gallery of Panoramic Images
Drawings Gallery » Gallery of Drawings

Contact » Various Methods available to contact me
IMD

COM311

Practial Work
Group Work
Independent Learning

DES311

Homework
Research Diary
Creative Experimentation

Resources » Links to the various resources that I made or that I am making use of.
Site-map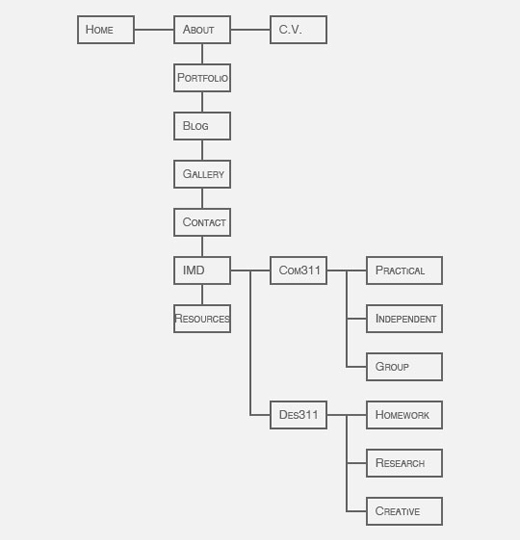 Please note that the layout of my site-map isn't truly a representation of the structure of my site. This makes it look as if my site is very deep, with little breadth. This is not the case. The layout above better suits the design of my current learning log, and I decided it would be better to have a site-map layout that was readable than one that represented the breadth of my intended design. So, for the purposes of the above image, please take the height as breadth and the breadth as height.
Navigation Structure.
I don't have any graphics to represent this aspect of my homework. This is because I haven't produced any. Whilst I know how I want my navigation to be laid out, I do not yet know how it is going to look in my final design. I do know, however, that I want my navigation to be a horizontal design with drop-down menus in place to handle the depth of the design.