Web Site Designs
I have spent a lot of time over the last week working on a design for my Learning Log. My typical site designs have been fairly straightforward whilst looking appealing to the eye. The more I've worked on my site designs the more graphics intensive, or 'shiny', they have become. When it came to designing my learning log for this, and other, modules the trend originally continued.
The original design I came up with was intended to make use of the popular trend of making a site appear to be made up of multiple 3D elements, also known as out of the box layouts (an example of which can be found here). Whilst many web designers that I know tend to dive straight into a Photoshop I have a tendency to pull out a notepad and paper and sketch out how I want the site to look, so that I know exactly what I want the site to look like when I start work on the design in Photoshop. The first sketch I came up with can be viewed below: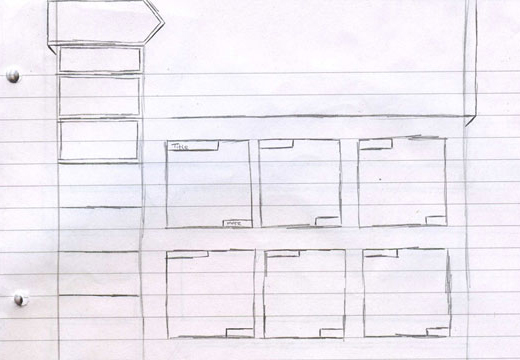 I liked the look of the different elements that I had put together, but there was something that felt wrong about how they were positioned. I couldn't put a finger on it, but with the help of a friend who looked over it I was able to figure out what it was that caused me to think that something was wrong. The positioning of the navigation menu looked strange taking up the entire side of the site. Having identified this I sketched out a new design, this time giving a dedicated space to a site header: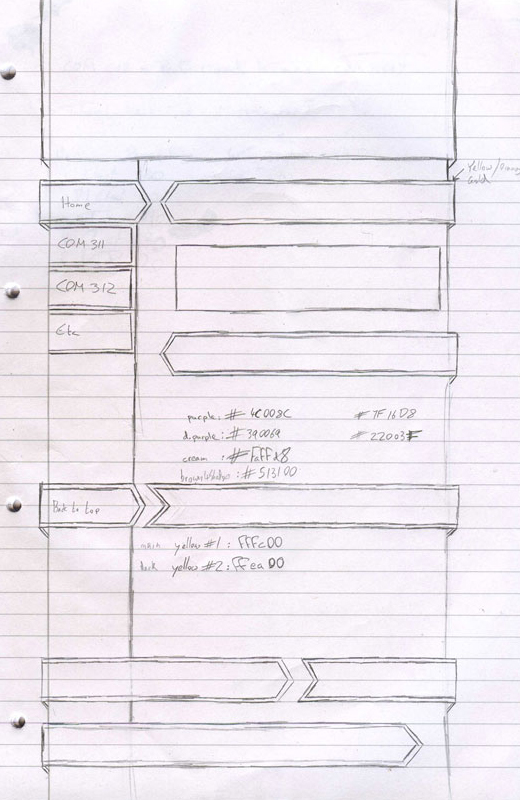 You can see in the above image that I started taking things a bit further than just sketching site designs, with the colour codes being noted down on the page. This is because I had begun creating the design in photoshop, and was using this sketch as somewhere related that I could note down colours that were being used. The piece in photoshop at this point looked like the below:

From here I began converting the Photoshopped image into a finished site design. At this point I began running into problems, as can often be the case when converting a solid image into a more flexible site design. I grew to increasingly dislike as I worked on the design. Eventually I decided I wouldn't be using the design. At this point the site coding looked like this.
By this point I had also decided that I wanted something much more simple to design. I had be greatly liked the design of the site for this unit and this probably shows through in the finished design that you can see before you.
This design was strange for me, as I jumped straight into things and had a functioning site before I sketched a single thing. It's also the complete opposite of anything else I've ever produced, currently making use of no images in the design, CSS being used to produce every effect on the site. I did eventually sketch some pieces, a basic design and a more complete design that I will probably move towards over the following weeks, both of which can be viewed below: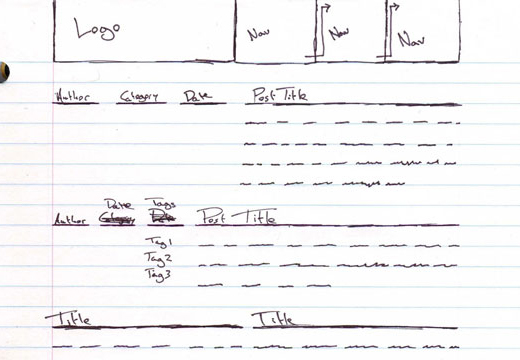 Overall I'm really pleased with the site design I have produced for this learning log, and it has proven to be quite the experience for me, helping me break away from my normal design techniques. It's not fully finished yet, but the pieces that still need work won't impact upon the functionality of the site, merely enhance it upon implementation.