Mind Map & Project Treatment Visuals
Brain Storming & Mindmapping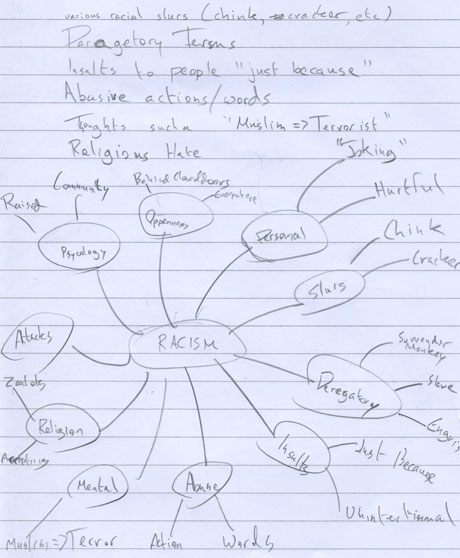 As a part of the lecture on Friday, we undertook a quick individual Brainstorming Session, followed up by a Mind Mapping Exercise to help arrange our thoughts. The above is the result of this. A neatened up version of this can be viewed below.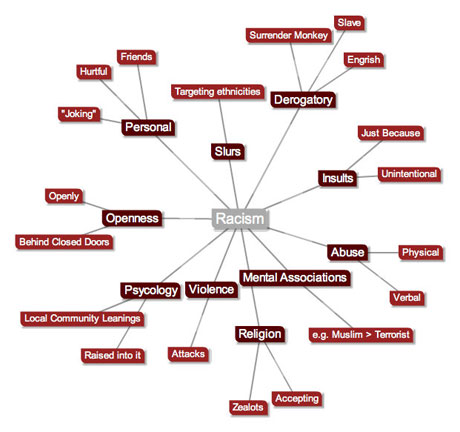 Project Treatment Visuals (Mood Board)
The following are a selection of images that I have uncovered whilst looking into racism. They're assembled in a very simplistic mood board, and cover a range of areas and approaches to racism.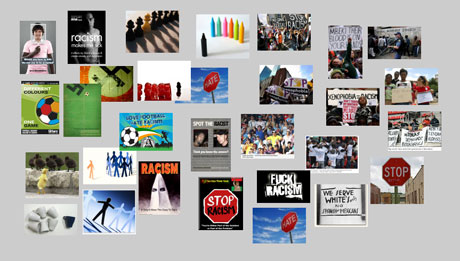 Individual images used to make up this Mood board can be viewed on my Image Spark account.
Design Approaches
One of the things that was covered during Friday's lecture was the topic of working out what kind of approach to take with reference to the design of a project. This was broken down into a total of five different sections. Whilst not a true part of this week's homework assignment, I thought it would be suitable to include it.
Identify style/approach/atmosphere
Consider the media categories/types/genre
Academic
Cultural
Educational
Informative
Pinpoint suitable 'delivery' systems
Identify psychological appeal/message
Acceptance
Emotional/Repulsive (with regards to Racism)
Shock
Power
Recognition
Refer to aesthetic considerations
Proportion
Proximity
Alignment
Contrast
Impact
Feel
Colour
Simplification
Update: I was talking with some of my friends about stuff this week, which reminded me of an image that would be highly appropriate to this homework. Whilst it was due last week, I am adding the following image.