Hey, welcome to my University Pages. You can take a look at my past and current University work as noted below. Of course, you can also check out my Portfolio, 365 Design Blog or follow me on Twitter.
I, as a Foundation Degree Student, got to skip the first year of the #IMD course, and jump straight to second year. As a part of the year we covered Entrepreneurship and Professional Issues (COM312), Dynamic Web Authoring (COM311) and Information Design (DES311) modules.
As part of both the Dynamic Web Authoring and the Information Design modules we were required to keep weekly log entries about the work we produced, which is what this section contains, along with a basic Portfolio, created as part of my coursework.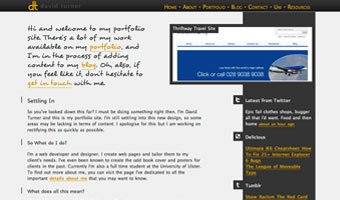 Semester 2 of the second year of my IMD course consisted, once again, of 3 modules. This semester containing Advances in Multimedia Authoring (COM314), Data Driven Web Authoring (COM427) and Design Application (DES310).
The majority of this semester's work tied into a Group Project and the majority of this semester's Learning Log ties into this.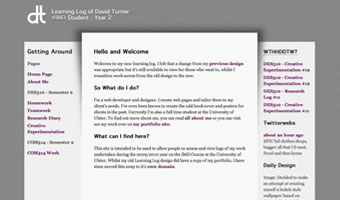 This isn't dedicated to any single year or semester. Instead, it links to the my latest IMD Learning Log, where you can see what I've been up to in University (will be updated to reflect any changes to the IMD space I have).