In my last post I was speaking (ranting maybe?) about how important idea generation is, and going over some of the tools that are available to people to help kick off the whole idea generation side of things. Given how important it is to sit down and think things through it's only reasonable that I sit down and take my own advice, and today's post is going to be following my progress with it.
What do I need ideas about?
Before I could sit down and get the ol' brain juice flowing I needed to work out what I wanted to generate ideas for. The obvious choice is, at this point, my Major Project. In particular I wanted to come up with ideas for design concepts. The actual content that I need to work into the site itself is well documented (as other sites that handle referencing have been around since the beginning of the internets), but I want the design, as well as the functionality, to be memorable to the users. There we go, topic sorted.
At this point I got out my trusty Eason's notebook so I could start scrawling down ideas as I came up with them. I also enlisted the help of Simon Fraser to help me come up with ideas, as two heads are better than one. I also returned the favour and helped him generate ideas for his own Major Project. Us students need to stick together, right? The end result of this can be viewed below: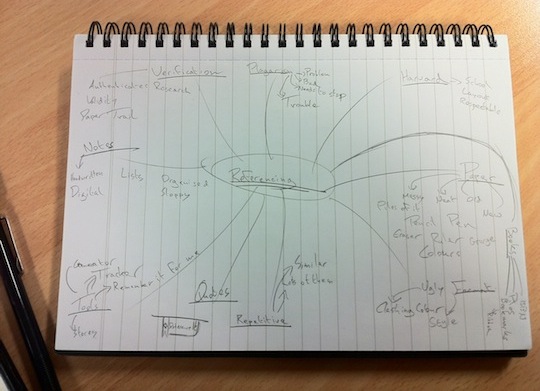 Taking Ideas away from the Mind Map
The above covers quite the range of ideas. Some of them I was able to immediately write off as being to negative, or as being unrelated to the kind of thing I would not be interested in pursuing. Two of the areas I covered are things that really appeal to me. The idea of paper/notes kind of thing strikes me as being quite relevant.
The amount of times I've seen students carrying around books with stickies being used as makeshift bookmarks, or seen students writing down notes on scraps of paper for later reference. You can see this influence in the little sketch towards the bottom of my mind map. It also makes me think of the style I used on a friend's site, though it is very image heavy, something I try to avoid.
Moving Forward
For a few minutes of sitting down and throwing thoughts onto a piece of paper I have already been able to identify the general direction I would like to take the visual design of my project. This is something for me to explore further in the future but, in the immediate future, I think I will be looking more into the Information Architecture of the site, as there is little point to having a design if it doesn't work with the content that the site will have in it.